Baby Powder/Sugar Scrub Combo Pack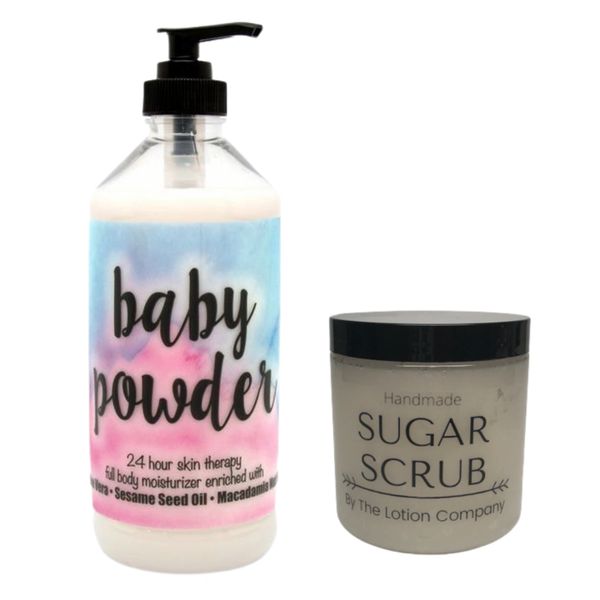 Baby Powder/Sugar Scrub Combo Pack
Baby Powder Full Body Moisturizer (16 oz.) + Exfoliating Sugar Scrub Body Wash (11 oz. Baby Powder)
A fresh and powdery aroma that perfect the baby powder scent.
Our All Natural Exfoliating Body Wash Uses all natural sugar crystals for a soft yet intense foaming exfoliation to leave your skin healthy & glowing.
·         Made with 100% All Natural Biodegradable Ingredients which contain:
o   Monolaurin: shown to help inactivate bacteria, virus', and fungus.
o   Natural Glycerin: leaves you with the smoothest skin
Our 24 Hour Skin Therapy Full Body Moisturizer is known to relieve dry, itchy, scaly, chapped, or sunburned skin, psoriasis and eczema. 16-ounce pump dispenser.
Both products are:
·         Paraben Free, Petroleum Free and Cruelty Free
·         Handmade in Indiana, USA
Water, Aloe Vera, Glycerin, Hawaiian Macadamia Nut Oil, Sesame Seed Oil, Cetyl Alcohol, Stearic Acid, Glyceryl Stearate, Propylene Glycol, Cetearyl Alcohol (and) Ceteareth-20, Vitamin A Palmitate, Vitamin E Acetate, DL Panthenol, Allantoin, Carbomer, T.E.A., EDTA, Propanediol, Sorbitan Caprylate, and Benzoic Acid, Ti 02, Fragrance