Baby Powder/Sugar Scrub Combo Pack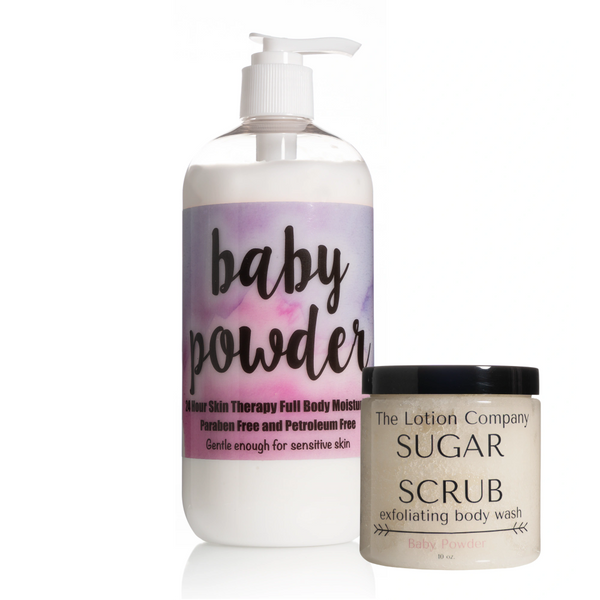 Baby Powder/Sugar Scrub Combo Pack
Baby Powder Full Body Moisturizer (16 oz) + Exfoliating Sugar Scrub Body Wash (10 oz)

Baby Powder is a fresh and powdery aroma that perfect the baby powder scent.
Sugar Scrub Exfoliating Body Wash
Handmade w/ all natural ingredients for a soft yet intense foaming exfoliation.
Key Ingredients:
·         Monolaurin: shown to help inactivate bacteria, virus', and fungus.
·         Natural Glycerin: helps skin build a barrier to retain moisture.
Our 24 Hour Skin Therapy Full Body Moisturizer is known to relieve dry, itchy, scaly, chapped, or sunburned skin, psoriasis and eczema. 16-ounce pump dispenser.
Both products are:
·         Paraben Free, Petroleum Free and Cruelty Free
·         Small Batch, Handmade in Indiana, USA
Ingredients 24 Hour Skin Therapy: Water, Aloe Vera, Glycerin, Hawaiian Macadamia Nut Oil, Sesame Seed Oil, Cetyl Alcohol, Stearic Acid, Glyceryl Stearate, Propylene Glycol, Cetearyl Alcohol (and) Ceteareth-20, Vitamin A Palmitate, Vitamin E Acetate, DL Panthenol, Allantoin, Carbomer, T.E.A., EDTA, Propanediol, Sorbitan Caprylate, and Benzoic Acid, Ti 02
Ingredients Sugar Scrub: SUCROSE, PROPANEDIOL, GLYCERIN, BIOTERGE, CAPRIC TRIGLYCERIDE, MACADAMIA NUT OIL, MONOLAURIN, FRAGRANCE