Barrier Between You & Germs (8 oz)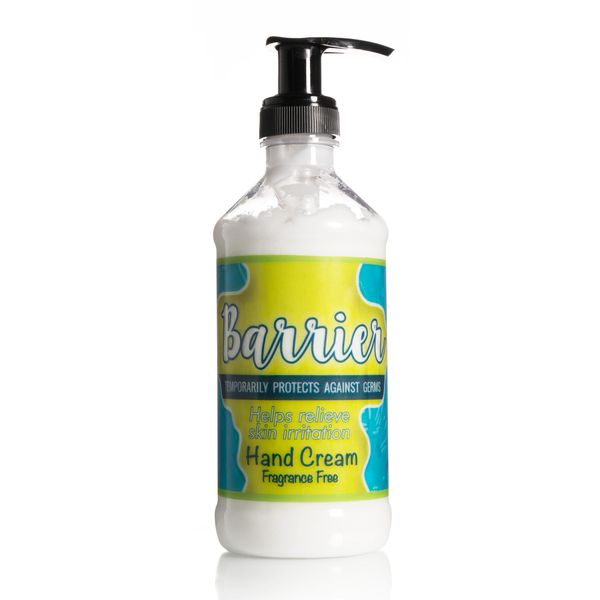 Barrier Between You & Germs (8 oz)
INTRODUCING BARRIER HAND CREAM
Regular use of Barrier Hand Cream, immediately replenishes the protective film lost in frequent hand washing. In developing Barrier Hand Cream, we followed the guidance from the FDA to offer an effective over the counter skin protectant that included the approved moisture barrier ingredient: Allantoin. We also included Monolaurin; an FDA listed compound with known natural anti-microbial properties. An Independent lab conducted a 14-day Preservative Screen Test against 3 infectious microorganisms. Barrier Hand Cream passed the test.
Whenever you wash and dry your hands, use a little dab of Barrier Hand Cream and just rub it in. Your skin is immediately moisturized, feel confident the barrier additives help to protect your skin. Benjamin Franklin's axiom that "an ounce of prevention is worth a pound of cure" is as true today as it was when Franklin made the quote. Get Proactive Protection, use Barrier Hand Cream.
×          Paraben Free, Petroleum Free, Cruelty Free
×          Handmade in Indiana, USA
×          8-ounce pump dispenser; Fragrance Free
×          Known to relieve dry, itchy, scaly, chapped, or sunburned skin, psoriasis and eczema
Today's Pandemic Requires Proactive Protection
PROACTIVE PROTECTION, HOW DOES IT WORK? The Centers for Disease Control and Prevention Promotes Life is Better with Clean Hands. Much of the CDC Protection focus today is spent on frequently washing the hands. Why? Our hands are how we most often contact the harmful pathogens in our world. Your skin is your first line of defense and the best protection from disease. Your amazing skin is protecting you by preserving moisture, regulating body temperature and by providing an effective infection protective barrier film. The barrier film is your skin's security guard. Frequent hand washing can deplete your skins natural protective barrier. While you cannot prevent 100 percent of disease from occurring, you can minimize the dangers by protecting yourself with a cream designed specifically to replenish the skin's protective layer.
---
Water, Glycerin, Cetyl Alcohol, Aloe Barbadensis Leaf Extract, Caprylic /Capric Triglycerides, Ethylhexyl Palmate, Organic Sesamum Indicum (Sesame) seed oil, Glyceryl monostearate, Cetearyl Alcohol (and) Ceteareth-20, Allentoin, Propanodiol, Sorbitan Caprylate, Benzoic Acid, Linoleamidopropyl PG-Dimonium Chloride Phosphate, Glyceryl Laurate, Ethylene Diamine Tetracetic Acid, Vitamin E, Titanium dioxide