Fragrance Free/Sugar Scrub Combo Pack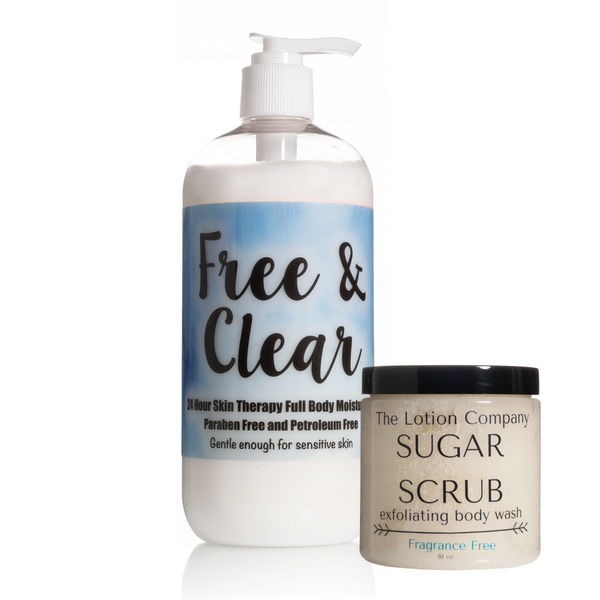 Fragrance Free/Sugar Scrub Combo Pack
Fragrance Free Full Body Moisturizer (16 oz) + Exfoliating Sugar Scrub Body Wash (10 oz)
Fragrance Free is described as truly fragrance free. An excellent choice for those who prefer to wear zero fragrance or for those who like to layer on their favorite perfume/cologne on top of their skincare.
Chemotherapy Skincare: Chemo takes a toll on your body – especially your skin. If you are currently experiencing a specific skin issue such as a face rash or radiation burn; our Free & Clear Full Body Moisturizer has been known to help.
Sugar Scrub Exfoliating Body Wash
Handmade w/ all natural ingredients for a soft yet intense foaming exfoliation.
Key Ingredients:
·         Monolaurin: shown to help inactivate bacteria, virus', and fungus.
·         Natural Glycerin: helps skin build a barrier to retain moisture.
Our 24 Hour Skin Therapy Full Body Moisturizer is known to relieve dry, itchy, scaly, chapped, or sunburned skin, psoriasis and eczema. 16-ounce pump dispenser.
Both products are:
·         Paraben Free, Petroleum Free and Cruelty Free
·         Small Batch, Handmade in Indiana, USA
Ingredients 24 Hour Skin Therapy: Water, Aloe Vera, Glycerin, Hawaiian Macadamia Nut Oil, Sesame Seed Oil, Cetyl Alcohol, Stearic Acid, Glyceryl Stearate, Propylene Glycol, Cetearyl Alcohol (and) Ceteareth-20, Vitamin A Palmitate, Vitamin E Acetate, DL Panthenol, Allantoin, Carbomer, T.E.A., EDTA, Propanediol, Sorbitan Caprylate, and Benzoic Acid, Ti 02
Ingredients Sugar Scrub: SUCROSE, PROPANEDIOL, GLYCERIN, BIOTERGE, CAPRIC TRIGLYCERIDE, MACADAMIA NUT OIL, MONOLAURIN